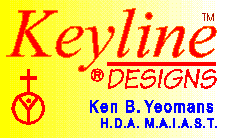 Keyline Designs
Principal Consultant
Ken Yeomans H.D.A. M.A.I.A.S.T.
Biography & Curriculum Vitae


K. B. Yeomans H.D.A. M.A.I.A.S.T.
18 Commodore Drive, Paradise Waters Queensland
P.O. Box 3289 Southport Qld. 4215 AUSTRALIA
Phone: +61 (0)7 5591 6281 Fax: +61 (0)7 5527 0847 Mobile: +61 (0) 418 745 120
Born in Sydney in 1947, the youngest son of P. A. Yeomans the originator of the Australian Keyline Plan.
1965 NSW Leaving Certificate. Attended Scots College in Sydney and boarded for four years at Wolaroi College, Orange, NSW.
1969 Graduated from Hawkesbury Agricultural College, Richmond N.S.W. with a Hawkesbury Diploma of Agriculture (H.D.A.) and became a foundation member of the Agricultural Technologists of Australasia in 1972.
1970-74 with Yeomans Pty Ltd., as Sales manager; rural property design consultant and manager of the Keyline rural research and experiment property at Orange NSW.

1974-76 Self-employed as rural water supply consultant initially to the counter-cultural movement of Northern NSW including some time designing suburban parks with Lismore City Council as an assistant survey draftsman.
1976 Special guest speaker at Organic Farming Conference and Field day at Cressy, Tasmania followed by consulting tour of the state.

1978 (circa) Founding member of Dreamtime community health farm in the upper Bellenger River Valley. (Organic farming and alternative health.)
Passed General Survey Drafting within the Civil Engineering Certificate course in 1981.

1981-82 Insurance agent with AMP in East Gippsland.
1982-83 Sales manager Parkes Industries Pty Ltd., N.S.W.
1983 Self employed as Keyline property design consultant based in North Queensland.

Since 1986 the sole proprietor of a consulting business "Keyline Designs", which specialises in property design and development using electronic data acquisition and digital terrain modelling.

Keyline consulting includes the site selection, survey and plan preparation of earthworks for large farm dams and Keyline gravity irrigation systems as well as assessing and making recommendations on; rebuilding the living fertility of soil, grazing management, cultivation practices, cropping programs and subdivision design.
The geographical range of services is throughout the states of Australia and overseas for clients on family farms, multiple occupancy communities and stations (ranches) held by large corporations. The land holdings range in size from under four hectares to over four hundred thousand hectares.

1990 Spoke at the International Organic Agricultural Conference, Adelaide SA.

1993 compiled, edited and published the book, "Water for Every Farm - Yeomans Keyline Plan". The book is international in its application and uses both metric and imperial measurements. It was compiled from earlier Keyline books by P.A. Yeomans although new material and photographs were added . The text was completely revised. Book information.
1994 Spoke at the International Environmental Agriculture towards 2000, Surfers Paradise, South-east Queensland, Australia.
Professional speaker to various Landcare meetings and field days in NSW and Queensland.
He lives with his wife, Robyn, in Paradise Waters, on the Gold Coast of South-east Queensland. He has four daughters.

Ken has done short term christian ministry trips to Burma and Thailand in 1993 and to India in '94, '95 and '97.

MEMBERSHIPS:

Australian Institute of Agricultural Science and Technology. (M.A.I.A.S.T)
Biological Farmers of Australia.
Gold Coast College of Christian Ministries. (Board member)
Gold Coast Community Support Network. (Board member)
Surfers Paradise Assembly of God Church. (Board member)
Irrigation Association of Australia.
"Keyline" is a registered trade mark of Ken Yeomans.
"Keyline Designs" is a registered business name.

Counter started Feb 1998 You are visitor number:




Back to Keyline Designs Homepage